WE'RE delighted to welcome debutant WLB contributor and tactical football boff Chris Bland (@blandc_1996) to the team. In his first piece, he gives us the lowdown on Super Sunday's showdown between Spurs and Newcastle.
Tottenham v Newcastle | Sunday 25th August 2019, 16:30 | Sky Sports
Tottenham take on Newcastle as the last leg of Super Sunday this weekend, and the form book points to only one result. We look tactically at Newcastle and why this is the case, and where the value lies in the game.
Talking tactics
Newcastle have lined up 3-5-2 in both their games this season, and this has created issues for them both on the ball and defensively. Against Arsenal and Norwich, the defence struggled to link to the midfield throughout, in particular struggling to find their playmaker Jonjo Shelvey.
Ranking 17th after two games for completed passes, Shelvey has struggled to get any hold of a game, and I expect a similar trend against Tottenham to follow.
Newcastle's wing backs have been used as the main link to attack in the opening games, with central defenders looking to play the ball out wide, before the wing back looks to move the ball inside to a central midfielder. This is placing a large reliance on the central midfielders to move across and provide further width.
Isaac Hayden adapted to this role on the right, creating Newcastle's best chance in the first half against Norwich, crossing to Joelinton, but Ki Sung-yueng and Shelvey struggled to get involved, highlighting the worries of linking defence/wing backs to midfield.
This was down to Norwich's overloading of the centre of the pitch, playing a very narrow 4-3-2-1 formation, which importantly is very similar to what Spurs play. As shown below, in Spurs win against Villa, the midfield and defenders took up a similar shape to that of Norwich against Newcastle.
Spurs Player Influence v Aston Villa                       Norwich Player Influence v Norwich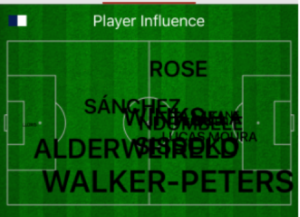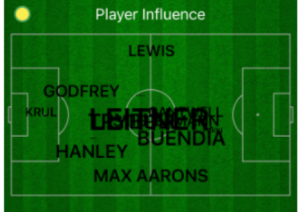 The packing of the midfield makes it hard to control the ball for Newcastle, and when the midfielders move wide to try get involved, this creates a lot of space to exploit in the middle. Both Arsenal and Norwich capitalised on this, breaking quickly when they won the ball.
Arsenal probably would've won more comfortably if it wasn't for Henrikh Mkhitaryan's poor decision making, whilst Norwich's second goal perfectly showcased this. The image below shows how they'd broken on Newcastle with the midfield out of position, and the presence of a full back on the break created extra space for Pukki to shoot.
This is particularly worrying when looking at Spurs' attacking options, whether it be the pace of Moura or Son, creativity of Eriksen or Lamela, and sharp shooting of Kane, if they leave any space in a similar fashion, they will eventually be punished.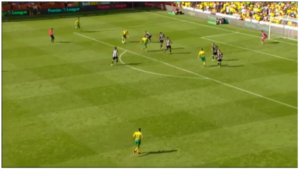 So what if Newcastle opt to bypass the midfield and play long? Unfortunately, the statistics and injury worries don't make good reading again. Andy Carroll is unavailable and Joelinton a doubt after going off against Norwich, therefore there looks to be no aerial threat.
Yoshinori Muto was brought off the bench against Norwich, so if they are to play long, expect it to be into the channels behind the Spurs back four, where Davison Sanchez and Toby Alderweireld have the pace to cope. Even if Joelinton starts, he was less than impressive in the air against Norwich, only winning one aerial dual all game.
Evidently missing Salomon Rondon from last season, the lack of outlet both in midfield and up front is a major worry for Newcastle going into this, and with star man Miguel Almiron struggling to get involved in games, it's hard to see them threatening the Spurs goal too often. It is worth noting new signing Saint-Maximin does have the ability to stretch Tottenham with his pace and willingness to run on the ball, however he is doubtful through injury, dealing another blow to Newcastle's attacking threat.
Spurs to win 'to nil' (1/1 BetVictor)
Newcastle are struggling to create chances (averaging an Expected Goals (xG) output of 0.75 across the first two games), plus the injury worries and struggles creatively in midfield, Tottenham should be able to keep them at bay.
Attacking-wise, Spurs should have no problem breaking down the Newcastle defence, with it feeling like a matter of when they score, not if.
Spurs -4 corner handicap (11/10 Bet365)
Spurs attempted 38 crosses against Aston Villa as they tried to break them down, and had 14 corners to Villa's zero. Norwich also looked to isolate Newcastle's full backs and set up in a similar fashion to Spurs tactically whilst managing seven corners to Newcastle's five.
As a result, I expect a similar pattern of play with Spurs looking to exploit the wide areas to get in behind, which should result in plenty of Tottenham corners.
Newcastle's struggles going forward suggest they'll spend long periods of the game defending, meaning Tottenham should rack up a healthy corner count once again.
Matt Ritchie to be carded (4/1 Bet365)
Finally, the referee for this game is Mike Dean, who dished out 162 yellows and 11 reds over 37 league games last season (average of 4.67 cards per-game). He evidently isn't afraid to give out yellow cards, and two Newcastle players stand out.
Last season, Fabian Schar topped Newcastle's yellow card charts with 12, and Matt Ritchie followed with nine. Whilst they haven't been booked this season, they have offered up 2.50 and 2.00 fouls per-game respectively, and are forced to make a lot of tackles.
Ritchie in particular is playing out of position at wing back, and could easily be caught out of position against the pace of Tottenham's attackers and full backs, so I believe he represents value at 4/1 (Bet365).
It is worth noting that if Newcastle do go behind, this should theoretically create even more space for Spurs to exploit as the game opens up, so waiting for it i- play for longer odds may be advisable, as well as keeping an eye on Schar's price.
Best Bets

Tottenham v Newcastle – Tottenham to win 'to nil' (1/1 BetVictor)

Tottenham v Newcastle – Spurs -4 corner handicap (11/10 Bet365)

Tottenham v Newcastle – Matt Richie to be carded (4/1 Bet365)