WE'RE launching our comprehensive and conclusive ultimate betting guide to Euro 2020 – over 120 pages of top-class stats, analysis, insight and opinion – on 31st May. Here's how you can get your copy…
Euro 2020: The Ultimate Betting Guide
Here at WeLoveBetting, content is king.
Following the success of our Euro 2016 and World Cup 2018 preview magazines, and with the Euros now on the horizon, it's time to tell you about the launch of our 100+ page betting guide to the competition.
We've spent months trawling the planet researching, analysing, reading and watching all 24 teams to deliver you the most comprehensive companion to this summer's jamboree.
There's thousands of words of detailed opinion covering all the major markets, plus ways in which to profit on all 24 sides taking part. We'll also be sharing every intricate stat and slice of performance data from the road to qualification to keep you ahead of the game.
Our Euro 2016 mag included big winners such as Portugal to win outright (22/1), Ukraine to be the lowest scoring side (20/1) and all four Home Nations to qualify from their group at 18/1, and we're looking to repeat the feat ahead of the rescheduled tournament.
How To Pre-Order Your Hard Copy Today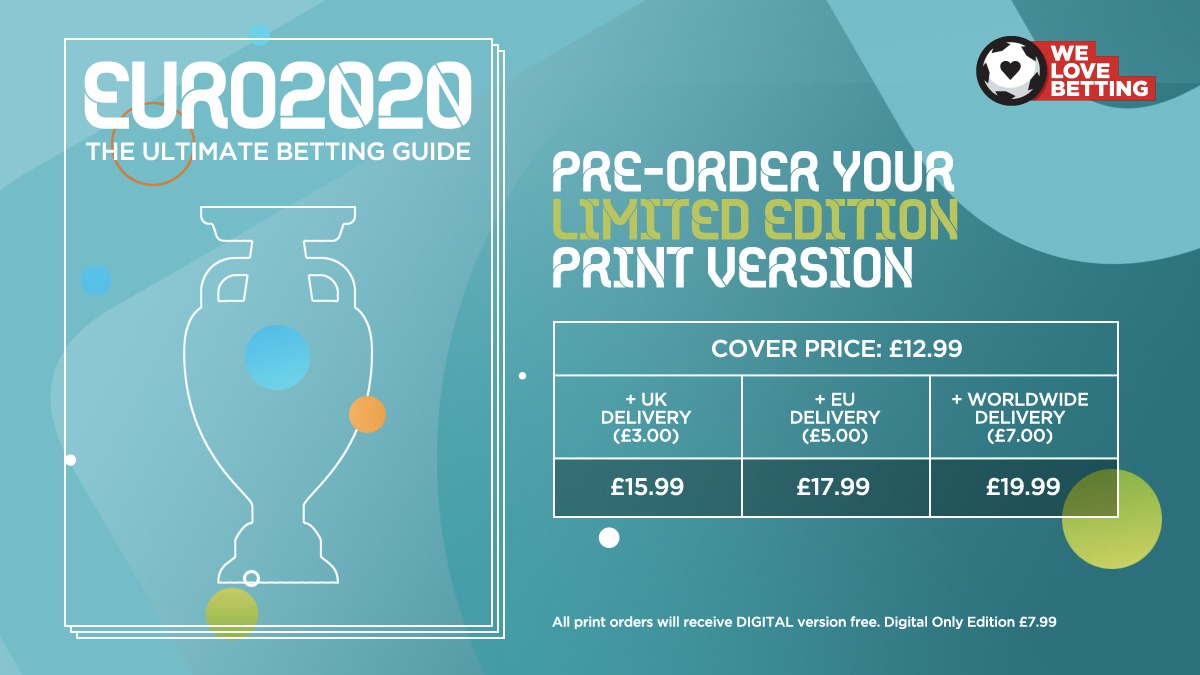 Pre-orders of a limited printed version of the guide are now open at £12.99 plus postage and packing from the following PayPal links:
All buyers will also receive free access to the digital copy when the magazine launches on 31st May (worth £7.99) with full details on how to get hold of your copy revealed here beforehand.
All May WLBGOLD members will receive FREE access to the digital copy after launch.
Print copies will be dispatched at the end of week commencing 31st May. Digital copies will be available to purchase immediately after launch.
As always, thanks for your continued support. It makes the hard work all the more rewarding.