CURIOUS to know how to make money via the betting exchanges? Let us guide you through it with the help of Matchbook and our Betting Exchange Guide.
Who Are Matchbook?
Matchbook are one of the big names in the exchange betting world along with Betfair and Betdaq. They've been licensed for a number of years and continue to grow bigger. Here's what they stand for:
• Value (Pride themselves in offering customers value by charging low commissions)
• Liquidity (Committed to offer strong liquidity on a wide range of markets)
• Innovation (Forward-thinking and constantly looking to improve the Matchbook platform)
What Are Betting Exchanges?
Never used a betting exchange before? Let us tell you what you're missing with our Betting Exchange Guide.
There Is No Bookmaker In Exchange Betting, it's Person v Person
Traditional bookmakers set odds for their customers to bet on, but in exchange betting the odds are created by the players themselves. The players are known as Backers and Layers. The layers are the ones that set the odds while the backers place bets at those odds. Exchanges always use decimal odds rather than fractions.
Continue reading our Betting Exchange Guide to learn more!
A backer is a player looking to bet on something happening (eg) a golfer winning a competition or a football team winning a trophy. While a layer takes up the traditional role of the bookmaker and looks to profit from something not happening (eg) a football team not winning a trophy or a golfer not winning a competition. This Matchbook example illustrates the point.
In this Ipswich v Norwich market when looking at the home side you can either back them at 3.20 (you need them to win) or lay them at 3.3 (you need them to draw or lose).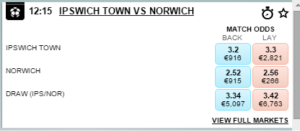 There is €916 available to back Ipswich at 3.2, this money came from people willing to lay them at those odds. In the other column, there's €2821 available to lay Ipswich at 3.3, this money came from people willing to back the side at those odds. Therefore, an exchange occurs.
What's Better, Being A Backer Or A Layer?
Well that's entirely to do with the odds. Clearly the bigger the odds you back at the greater the reward, and of course laying big prices is far riskier than laying odds on shots.
Let's look at a game between Man City and QPR. In this example, I'm willing to lay a €10 bet on Man City winning this game at Matchbook. As their odds are so short (1.254) my liability is so small, €2.53 in this case. I'll lose that €2.53 if Man City win, but if they draw or lose I keep the backers £10.

The flip side of that approach is this example. Here I'm laying a €10 bet on QPR beating Man City at Matchbook. As their odds are so large (16) my liability is big, €150 in this case. QPR are expected to lose this game and if they do I'll keep the backers €10, but if they unexpectedly win I have to pay out €150 to the backer.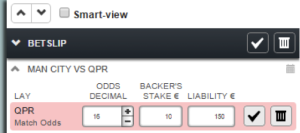 So How Do Exchanges Make Money If It's Users Setting The Odds?
Betting exchanges charge a commission on all bets placed. This is the charge for using their platform. Matchbook charge a mere 1%, this is the lowest commission rate in the exchange industry.
Do Exchanges offer bonuses?
Yes, nearly all exchange offer bookmakers bonuses. If an exchange is not for then the more traditional bookmakers such as Xe88 would be better suited.
You Often Hear People "Locking In A Profit" On Exchanges. What Does This Mean?
Because you can back and lay on a betting exchange this gives you the flexibility to trade your position. The aim is always to back something at a price and then lay it back at shorter odds therefore guaranteeing a profit.
An example would be backing Brentford at the start of the 2014/15 season to get promoted at odds of 20 and then laying them at shorter odds when they qualified for the play-offs.
Because they've reached the play-offs their odds have decreased significantly and you're now in a position to profit from that with both the back and lay bets running at a guaranteed profit.
Is It True You Can Request Odds On A Betting Exchange?
Yes. Let's take a look at the Ipswich v Norwich game again. I might like the look of Ipswich but feel 3.2 is too short. Therefore I can use the + and – section on the odds display to request a bigger price.

In this Matchbook example, I've asked for 3.34 on Ipswich instead. My bet will now be logged as an Unmatched Bet, but as soon as a fellow customer is happy to lay Ipswich at 3.34 the bet will be processed.
Advantages Of Betting Exchanges
• You can back and lay unlike with traditional bookmakers
• Their odds are usually better than traditional bookmakers
• You can guarantee a profit by backing and laying the same selection at appropriate odds
Any Other Questions? Suggestions to improve our betting exchange guide?
Just drop us an email at hello@welovebetting.co.uk or tweet us @WeLoveBettingUK.