THE player and team-based props markets are becoming more mainstream in football betting. Jack Lambden (@_JackL_) is at the forefront of props-based punting and has shared a complete guide to the new markets here to aid your next bet. 
The complete guide to player and team props
A market that is becoming increasingly popular because of its variety is player and team props – the ability to bet on a particular player or side to reach a certain number of passes, tackles, offsides, crosses, or shots in game.
As most of the money in betting goes to the outrights, some of the value in those markets can be diluted and therefore, to try and get a bit of an edge and stay ahead of the bookies, I've found some success in looking elsewhere the majority of the time and trying to trust my knowledge and research in taking on the prices the bookies are offering on the props.
Below are some pointers to take note of when delving into the prop markets.
1. Useful sites for research
There are plenty of great resources out there to help you research the angles you are looking to bet on or find those hidden gems to begin with. Some of those that I find useful with building up a case to back something are below:
This is a great website packed with plenty of information that is easy to navigate and find what you are looking for. The site uses Opta data and you can easily look at player and team statistics that range from shots, tackles, cards, goals, assists, passes, man of the match awards and many more.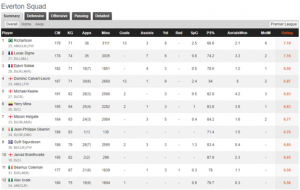 Additionally, if you want to delve deeper, you can go to the detailed tab for a team or player to view how the stats compare in different formations or positions that a player has lined up in across the season.
In the second picture below, under the 'match statistics' tab for a particular player, you can view his stats across the season in individual games rather than just the season averages. This is key as it may be that there are certain trends when playing certain opposition (bottom half teams v top half for example) so it's always worth delving into this detail.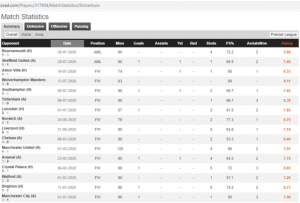 The site also contains statistics on referees which is of huge help when looking at the cards and penalty markets. In the third picture below, you can see a referee's recent match data and also their averages summarised across the season.
It's worth remembering though that these detailed statistics are only available for a select few leagues across the world, although all of the main ones you would expect to see are covered such as the Premier League, La Liga etc. WhoScored does have a mobile app available but you won't be able to do the same level of analysis on that as you can on the desktop version of the website.
Another site full on numbers but is a great resource and again, easy to use. I mainly use it for researching corners but it has a host of data covering cards, goals and much more in between on a large number of leagues which are listed in the second picture:
You can view a lot of the stats by first half/second half too which I find helpful as you can find some real outliers in there. The first picture below is showing that you can compare the numbers for some of the stat areas I mentioned across the leagues and it might give you some ideas of markets to target to try and find some value.
This is next level analysis. The amount of data on this site can be overwhelming to begin with but I have found that it certainly helps paint a picture if you know what all of the stat areas mean.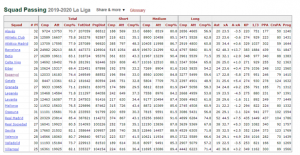 As with most of these websites, you can compare team-by-team in each league (select few only) or individual player numbers within particular teams. I find it helpful with passing markets to try and identify which teams and players like a short pass compared to a long ball (first picture) and which teams press in which area of the pitch (second picture below).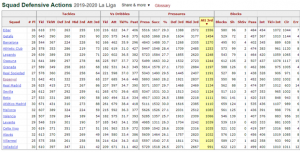 If a team is recording low attacking third pressure numbers, it could bring into play opposition centre-back numbers but only if that team likes to play out from the back and has high short pass numbers (if they're a team that tend to go long with every goal kick/free-kick then best to avoid this angle).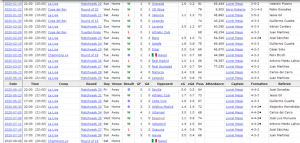 In the third picture, you can see a summary of a select team's results, Barcelona in this case, and this gives you a view of the formation the team have been deploying, their expected goal output and their possession numbers, areas which are hard to find on one page elsewhere. There's a link to the glossary on every page in case you need any help with what some of the column definitions are.
This is a site still in development by the guys over at @InPlayAlerts but it's a great tool for viewing recent stats registered by each player in recent matches, as shown below. It's a real game changer to have this all in one place, saving time on having to collate or find a lot of the information on various websites or apps.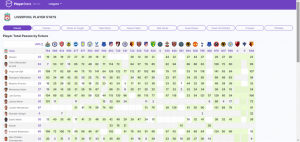 At the time of writing, the leagues included are: Premier League, Championship, League One, La Liga, Bundesliga, Ligue 1, Serie A and the A League. European games are factored into the recent matches too (a helpful addition) and you can see the player and team averages down the X/Y axis. I'm sure this site will only continue to get better and is certainly one I will be referring to in the future.
2. Other factors to consider as part of your research
Team news
This is crucial. A player missing out through suspension or injury can totally change the complexion of a game or at the very least a market you're looking at betting on.
For example, a particular player could have been deployed at left-back all season but because of injury to one of his teammates, he is starting a match on the left-wing. That brings shots in to the occasion, and you can use WhoScored above to identify previous matches the player has started in that 'new' role to find out the numbers he has posted.
The bookies may not have factored this in and it's where you're most likely to find some great value.
If you've narrowed your bets down to a specific game, make a note to check the team news which is usually released an hour before kick-off, to check whether the bet you're looking to back is positively or negatively impacted by the player being on the bench/out of position or the manager throwing in a curveball by going with a different system to recent matches
Manager changes
his can also really alter the way a team plays. Take West Ham in this past season for example – they sacked a possession based manager in Mauricio Pellegrini to bring in the more conservative David Moyes.
Of course, that move proved fruitful in the end with the Hammers staying in the Premier League, however the East Londoners' passing numbers fell off a cliff as they saw much less of the ball. It brought opposition player passes and the general possession lines into play, something a lot of the bookies were slow to cotton on to until right at the end of the season.
Different managers have different styles and caretaker appointments can also throw up some value too so if a team has changed coaches midway through the season, it's best to do some research on how the new man in charge likes his teams to play before placing some money behind a team or a player.
There's plenty of good websites out there that offer tactical analysis on coaches and teams or you can use your own knowledge to try and identify price errors
Game context
This usually becomes a factor towards the end of the season or in knockout ties but it's always worth considering. If a team has nothing to play for with a couple of games to go – they're marooned in mid-table – you may want to fade them and avoid the prop markets for them as well.
Alternatively, if a team is in desperate need of a result to overturn a first leg deficit, win promotion or avoid relegation, the shot and corner markets can contain a lot of value if the bookies haven't factored this in. Tackles and cards are similar in this respect with time wasting and a general 'win at all costs' attitude deployed by some teams
The weather
It sounds a strange one but it does sometimes have an effect. Particularly windy or wet weather can be more of an equaliser in terms of the outrights but on the props front, a hot day can increase the number of passes a team makes if there's a much slower pace to the game.
It's not a blanket rule but you tend to see it in Spain and Italy a fair bit in early kick-offs – some teams would prefer to let the ball do the work and pass around the back with a much more patient build-up rather than making unnecessary runs and burning out too quickly when the temperatures are higher.
I've had some success in the player cross markets during a couple of matchdays when there have been storms over the UK with sides looking to put more crosses in the box than normal to cause chaos amongst the opposition defence. It's not a deciding factor but always something to bear in mind.
3. FAQs
Some answers to questions I've been asked a few times where it hasn't explicitly been covered above:
What bookies are best to use?
I'd always encourage someone looking to make a serious go of profiting from their betting to sign-up to as many bookies as possible. I know it's easier to manage your bankroll with less accounts but you're missing out on value by staying loyal to one or two companies.
Sure, there's some pretty awful bookies out there with dreadful customer service but sometimes there can be stark differences in prices which can be worth taking the rough with the smooth.
In terms of player/team prop bets, I'd encourage opening accounts with: SkyBet; Bet365; Betfair/PaddyPower; WilliamHill; Ladbrokes/Coral; PokerStars; Unibet/888Sport; BoyleSports; MarathonBet and VirginBet. SkyBet are probably my favourite to use even if their prices are varied, purely because they tend to cover more games than most others listed.
What apps are best to use to track bets in-play?
My favourite is StatsZone. It's £10 a year to use but it's worth it to be able to track all kind of stats on the big leagues and goes into depth that other apps do not – for example being able to see if a player's shot was outside the box or how many crosses they have completed by viewing the pitch view for that individual.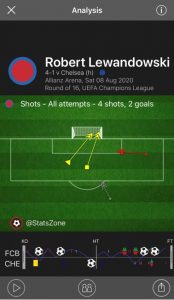 An example of this is in the picture below. I'd also recommend using SofaScore which covers the cup games in most of the major nations such as the FA Cup and DFB Pokal, something that the StatsZone does not.
On there, you can track how many passes, shots, tackles a player has had in a game although as mentioned above, it doesn't go into the detail of whereabouts on the pitch they have taken place. WhoScored is the other app I would recommend but again, it's limited compared to StatsZone.
Where do you go for team news?
Prior to a game, it can be a variety of sources. For the Premier League, PhysioRoom.com is a good tool (it's also good for FPL players too!) which is updated every week based on the manager press conferences to reflect the injuries and suspensions each squad is having to contend with.
For the Bundesliga, I use Bild which is a German News outlet as they're usually pretty spot on in that regard. For Serie A, Gazzetta dello Sport is a good source of team news for each club and in La Liga I tend to use Marca. None of it is 100% information however as there's always likely to be one or two selections now and again that nobody was expecting – it's just how you react to that which is key.
As I mentioned previously,  the confirmed team news will be released about an hour before kick-off and if the team social media accounts don't confirm the formations alongside them then I would refer to the sources above for that level of details.
Sometimes the LiveScore/StatsZone/SofaScore type apps can be way off in their assessment of which players are starting in which position so err on the side of caution if you are unsure. Just something else to note though, even some club twitter accounts get the formation wrong! Atletico Madrid's is worse for this so be wary of that.
What are the best resources for penalty information?
StatsBunker is my preferred choice to see which sides have been awarded and conceded the most penalties in the league. For players that have converted them, that site is okay but Transfermarkt gives a better breakdown of which players have taken them and when, as well as whether or not they were converted.
That may allow you to spot some value on the 'player to score a penalty' markets which a limited few bookmakers offer odds on
What are the best resources for resources for shots outside the box, corner takers and crosses player data?
For shots outside the box, there isn't a quick was of doing this but WhoScored.Com or the StatsZone app are your best bets. Corner takers can be viewed under the 'pass types' section of a particular team page on Fbref.com. For crosses, I would again use Fbref or playerstats.football
What team prop markets are there available?
As well as team shots/shots on target and team tackles, you can bet on a side to have over a percentage of possession in a match (Unibet/Marathon) or win the possession handicap (VirginBet). Team offsides is also a market that can throw up some real variation in prices and team fouls/free-kicks is one I have found success in during the past few months, with the referee appointments key.
You can even bet on team goal kicks and throw-ins (Bet365) if you're brave enough, although those historic stats are harder to find in one place for you to be able to formulate an opinion about the price being offered.
What source of data will bookies use to settle bets on?
The vast majority if not all will use Opta's record of events as their 'official' source. However, some bookies like Unibet tend to settle based on the stats posted on the official competition website, which can be different.
You would think that in this day and age there should be consistency in the numbers and one single record of truth, but with definitions around what constitutes a shot/tackle etc. a bit open for interpretation, there can be differences so be wary of that before you put you money behind something as it can make an attractive looking price rather deceptive.
What is defined as a tackle?
As above, this is not as straight forward as it may appear on the face of it. Ten people could all be watching the same game of football and nine of them could call a player sliding in and dispossessing his opponents as a tackle but the stat providers, usually the tenth person/party pooper here would disagree.
Typically, the definition is "where a player connects with the ball in a ground challenge where he successfully takes the ball away from the player in possession. The tackled player must clearly be in possession of the ball before the tackle is made. It is not a tackle, when a player cuts out a pass by any means".
It's why you sometimes see a player get marked up as having successfully won a tackle on one of the aforementioned apps, only for it to get taken away again a few minutes later. It's frustrating, but it's part of the stats providers reviewing the footage to ensure they're getting these types of data recordings correct
What are the rules for each bookie with regards to voiding a bet if a player does not start the match?
For the bookies I mentioned in a previous answer, below are their current rules at the time of writing (please note this may be subject to change) for voiding a bet if a player does not start a match but comes on as a substitute. Note that all bookies will refund a props bet if the player is not included in the matchday squad at all:
SkyBet – Bet will stand if player plays any part
Bet365 – Bet will be voided
Betfair/PaddyPower – Bet will stand if player plays any part
WilliamHill – Bet will be voided
Pokerstars – Bet will stand if player plays any part
BoyleSports – Bet will be voided
MarathonBet – N/A (only offer team prop markets such as possession line)
VirginBet – Bet will stand if player plays any part
Which bookies offer which markets and in which leagues?
This tends to change constantly depending on the schedule. I will endeavour to get this formulated in a table for each league at the start of the 2020/21 season and get it added on this article but only when the football calendar is a little less hectic and bookies have settled back down into their normal rhythm!